© Copyright 2015 Puppet Players All Rights Reserved

Little Bunny Fru Fru
Based on the silliest song ever. The Good Fairy tries to teach Fru Fru to get along with his neighbors. Five stars!
The Magic Lantern
A princess, a sultan, a genie, a mysterious lamp, and three wishes. Guaranteed to keep your kids on the edge of their seats!
The Treasure Chest
A swashbuckling adventure! Our boy hero meet a pirate, a sea serpent, and – could it really be – a MERMAID?!
Old MacDonald's Mixed-Up Farm
The old farmer makes a wish to see the circus on his birthday. Suddenly, his barn is filled with giraffes, elephants, lions, and alligators!
The Princess and The Frog
An ugly troll puts a curse on the prince. Froggy now needs a princess to break the curse. Will she really have to give him a (gulp) KISS?
Little Red and Big Bad
The silliest Red Riding Hood ever. Little Red has TWO baskets to take to grandma's – one with candy, one with healthy snacks. Wolfy goes nuts trying to get the right one.
Jack and the Beanstalk
Mom, Jack, a salesman, a cow, magic beans, and a FRIENDLY giant with giant allergies. Can Jack help him stop sneezing, and save the farm?
The Space Adventure
Put on your helmets and zip up your space suits - this story has monsters, aliens, spaceships, and the bravest astronaut hero ever!
The Dinosaur Egg
Parker Puddleboot gets an odd green egg for his birthday. Whatever should he do with the strange creature that emerges?
Holiday Shows
Santa's Toy Bag (Christmas)
Oh, no! The old bag has a hole in it. Now, all of the North Pole friends must pitch in to help before Christmas Eve.
The Littlest Elf (Christmas)
Noodles is Santa's newest worker, and she has some strange ideas about toys. She thinks they should all be for her! Can a magic hat teach her a lesson in giving?
Tess Turkey's Tail (Thanksgiving)
This turkey has a terrible temper. Her friends try to teach her how to get along, with the help of some colorful feathers.
The Haunted Forest (Halloween)
There's wild things in the forest – spiders, snakes, and perhaps giant alligators. At least that's what Harold thinks when his mom sends him to pick blueberries.
There's a Monster in My Bathtub (Halloween)
Best Halloween show ever. Five stars.
The Country Fair (Patriotic)
Forest animals gather for some old fashioned foot-stompin', knee-slappin' fun. Great for outdoor summer fairs and carnivals.
Super Bunny to the Rescue! (Easter)
An old table cloth turns into a super hero cape for Buster Bunny just in time to save the day.
The Leprechaun of Finnegan's Bridge (St. Patrick's Day)
An Irish folktale about a little green guy with big mischief.
The Brave Princess (Valentine's)
Princess Downyfluff isn't your ordinary princess. With the help of Prince Nicenough, she finds a very surprising way to banish the pesky dragon.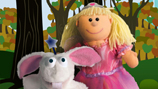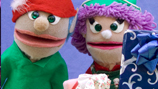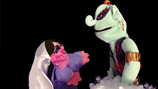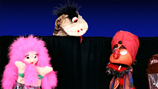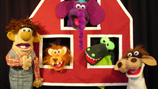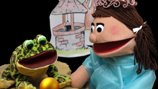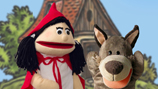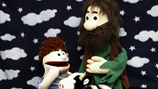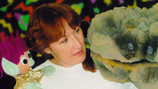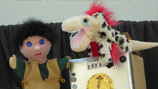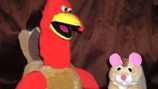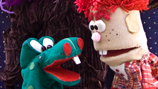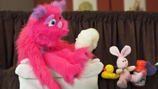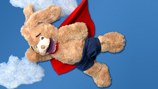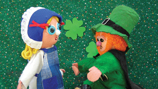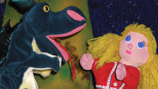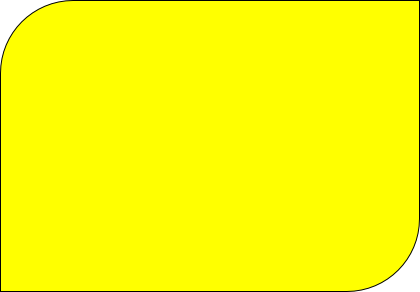 The Ugly Duckling
The Emperor's New Clothes
The Princess and the Pea
The Boy Who Cried Wolf
The Lion and the Mouse
The Shoemaker and the Elves
The Little Red Hen
Stone Soup
The Bluebird (Native American)
Little Bear's Tail (Native American)
A Very Small House (a Polish Folktale)
Pumpkinella
(Call for availability)
Other titles available at certain times: